WebsiteSaver™ FAQ
Online Marketing Problem- Oops! The Link Appears to be Broken. WebsiteSaver™ Can Fix It
Oops! The Link Appears to be Broken!
Oops! The Link Appears to be Broken!
Dead link or broken link happen when website template switched, it leads to a misunderstanding of website or leave a bad impression, and eventually decrease the quality score. Therefore SMEs should avoid the situation like that.
Different messages about "can't find the page"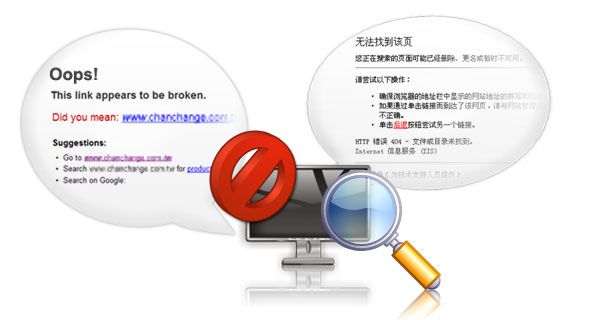 Different browser appears different message but all leave a bad impression
WebsiteSaver™ Can Prevent Such Issue And Also Redirect Visitors to the Right Place
WebsiteSaver™ is designed to help clients avoiding "can't find page" such error pages. Instead of showing error message, it redirect visitors to the updated page.
404 inexistent web page notification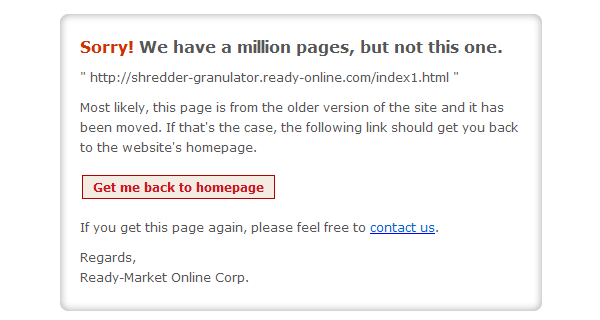 WebsiteSaver™ detects and guides when visitors visit inexistent web page
Don't hesitate and let your competitor win over you! Buy WebsiteSaver™ Now to Bring Back Orders!


Questions Index
Customer Experience Sharing
" WebsiteSaver™ is very easy to navigate, except modifying web page and understanding website quality score, the most importantly is that we've expanded the market and received orders form overseas. "
Patrick Lee
President, Poly Vision Group
Ready-eSupport
If you have any further questions about WebsiteSaver™, please click "Live Help Desk", we will be with you in a second.